How do I transfer music or pictures to my player?
You can transfer music and pictures by using drag & drop method which is shown in the following:
(Attached pictures are examples only)

1. Connect your player to your PC. It will load automatically as shown in step 2.

2. Select Open device to view files.




(If the folder of your player does not appear, double click My Computer at the desktop and you will find an icon for your player. Double click that icon)



3. Select the music or picture files you want to transfer in your local directory.
(You can press and hold the Ctrl button on the keyboard to select more than one file)

4. Drag the selected files to the particular folder of your player (E.g. Music file on your player) by holding the left button of the mouse and releasing it.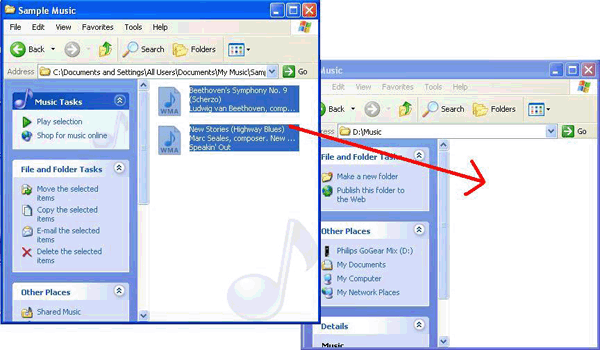 Along with using the above method, you can also use the one of the following. Please refer to the link for more details.

1. Window Media Player 11

www.microsoft.com/windows/windowsmedia/knowledgecenter/howto/mp11/sync.aspx

2. Rhapsody

www.rhapsody.com/mac_faq