How do I attach the brush head to the handle of my toothbrush?
For FlexCare+, FlexCare, Healthy White and Sonicare for Kids: Align the brush head so the bristles face the front of the handle. Firmly press the brush head down on the metal shaft until it stops. Note: There is a small gap between the color code ring and the handle.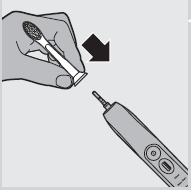 For Essence, CleanCare and Xtreme products: Align the front of the brush head with the front of the toothbrush handle. Screw the brush head nut clockwise until it is firmly tightened. If the brush head rattles during use, tighten the nut further.