What is Audio Return Channel (ARC) and does my Home Theater System (HTS) support it?
HDMI Audio Return Channel (HDMI ARC) is a feature that allows you to output the sound from your TV to your Home Theater System using only the HDMI connection; no extra SPDIF audio cable is needed.
To use this feature, you need both your TV and your HTS to be HDMI ARC compatible.
You just need to use a HDMI-HDMI cable to connect the 'HDMI ARC' connection of the TV to the 'HDMI OUT/HDMI OUT (ARC)' connection of the audio equipment.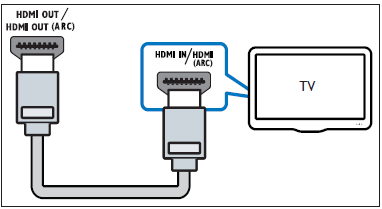 Your HTS supports this ARC feature.
Follow these procedures to set up the ARC connection:
Connect the HDMI OUT/HDMI OUT (ARC) connection of the HTS to the HDMI ARC connection of the TV. (The labeling may be different for different brands of TV)
Press the "Home" button on the remote control
Select "Setup>EasyLink>EasyLink>On, and then press 'OK'
Select "Setup > EasyLink > System Audio Control > On, and then press 'OK'.
Select "Setup > Easylink > Audio Input Mapping" to map the HTS to the ARC connection
Follow the on screen instruction to complete the setup