Do I have the correct version of the MediaConnect software running on my pc?
You can check the version of MediaConnect by completing the following steps:

1. With MediaConnect running, Right Click the MediaConnect Icon in the Task Tray.





2. Left click About.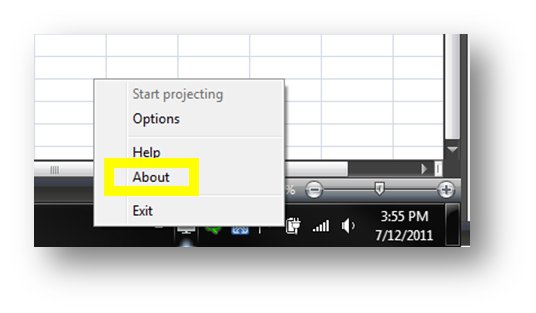 3. The version number will be listed.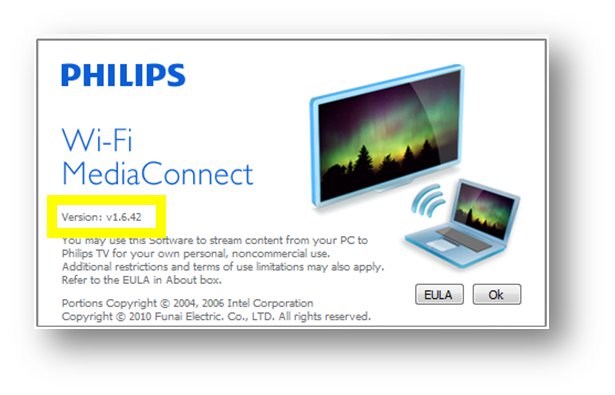 4.. Make sure your version is correct for the model device you have listed below:
PC v 1.6.425

PC v 1.6.427

PC v 1.6.42

MAC v 1.19

40PFL5705D/F7
40PFL5705DV/F7
46PFL5705D/F7
46PFL5705DV/F7
55PFL5705D/F7
55PFL5705DV/F7
40PFL7705D/F7
40PFL7705DV/F7
46PFL7705D/F7
46PFL7705DV/F7
55PFL7705D/F7
55PFL7705DV/F7

BDP7520/F7
BDP5506/F7
BDP5506/F8
HTS5506/F7
HTS5506/F8

40PFL4706/F7
40PFL4706/F8
46PFL4706/F7
46PFL4706/F8
55PFL4706/F7
55PFL4706/F8
40PFL5706/F7
40PFL5706/F8
46PFL5706/F7
46PFL5706/F8
55PFL5706/F7
55PFL5706/F8

50PFL3807/F7

40PFL3907/F7

46PFL3907/F7

55PFL3907/F7

26PFL4907/F7

32PFL4907/F7

40PFL4907/F7

40PFL5907/F7

42PFL5907/F7

46PFL5907/F7

50PFL5907/F7

55PFL5907/F7

40PFL3907/F7
46PFL3907/F7
55PFL3907/F7
50PFL3807/F7
26PFL4907/F7
32PFL4907/F7
40PFL4907/F7
40PFL5907/F7
42PFL5907/F7
46PFL5907/F7
50PFL5907/F7
55PFL5907/F7