How do I clean the appliance?
Do not rinse the whole appliance under running water. Only rinse the removable cutting element, the trimming comb, and the precision trimming attachment under running water every time you have used them.
Do not use corrosive detergents, scouring pads, or cloths, petrol, acetone etc. to clean the appliance.
To remove the cutting element, push down the release slide and pull the cutting element off the trimming head. (Fig.1)
When you reattach the cutting element to the trimming head, push up the release slide to make sure the cutting element is fastened properly onto the trimming head (Fig.2)
Use the cleaning brush supplied to brush any hairs or dirt off the cutting element and the appliance. (Fig.3)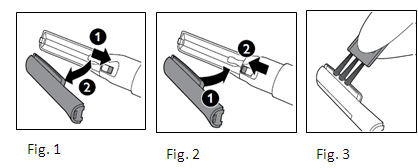 The instruction movie below shows how to clean the trimming head.