VIDEO - How should I reassemble the cutters in the shaving unit?
Check if the shaving unit is still complete and all parts are there. [Picture 1]
A complete shaving unit consists of:
3 cutters
1 shaving-head holder (top part of the shaving unit)
1 retaining frame (green)
1 bottom part of the shaving unit

Note: The shaving guards of this shaver cannot be removed. If they are accidentally removed from the shaving- head holder and you cannot replace them, please phone the Consumer Care Center in your country or take the appliance to your dealer.
Place the shaving-head holder in front of you, with the shaving guards facing down. [picture 2]
Place the three cutters back into the shaving guards with the cutter legs pointing downwards. [picture 3]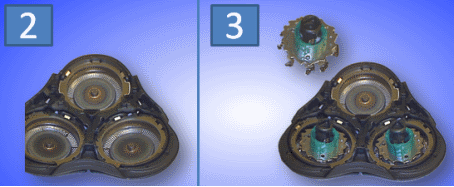 Place the green retaining frame back onto the shaving-head holder.
Make sure you place the retaining frame in the correct way:

The small arrows should face up [picture 4]
The arrow head on the shaving-head holder should be pointing to the bottom arrow on the retaining frame [picture 5]
Slide the retaining frame back into position ('click'). [picture 6]

Place the shaving-head holder back on the bottom part of the shaving unit. [picture 7]