Question
Connecting Digital Satellite Receiver with DVI connector.
Answer
Your LCD TV offers Digital Video Interface (DVI) with High Definition Copy Protection (HDCP) connections. This feature allows a digital connection between set-top boxes and the LCD TV, creating a more vibrant image. DVI HDCP technology allows content providers the ability to utilize the full bandwidth of high definition signals.
Disconnect all power sources before making any connections.
Connect the digital DVI output of your HD device to the DVI connector of the DVI IN connection.
Connect the AUDIO cable to the Audio outputs of your HD device and to the AUDIO R (right) and L (left) inputs of the DVI IN connection.
Use Source button on the remote control to select DVI to watch the programs.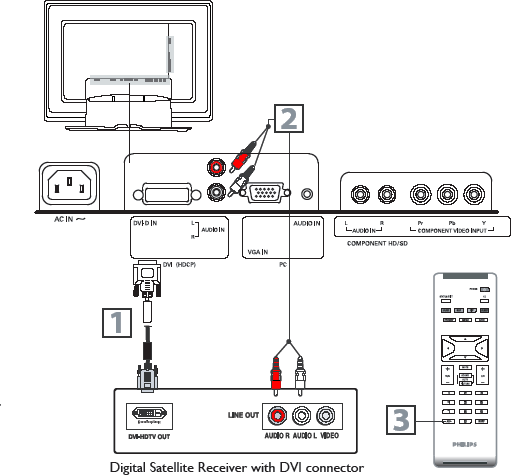 Note:
Proper working is only guaranteed with DVI compliant consumer products.
Digital devices from different manufactures have the possibility of differing output standards which may cause difficulties for the television to properly display.
It is not recommended to connect your PC to LCD TV via DVI connection, since the LCD TV may not support the PC display mode you are using.
DVI is a specific digital input allowing encrypted transmission of uncompressed HD content. DVI includes HDCP (High-Bandwidth Digital Content Protection), which is supported by Hollywood, satellite providers, and most of the consumer electronics industry. DVI is gaining monumentum and quickly becoming an industry standard for the consumer to view high definition material while keeping content protected.