Question
I have problem synchronizing my GoGear with Windows Media Player.
Answer
First check if the computer is able to recognize your GoGear. When connected your GoGear to the computer you will see the below MTP Media Player pop up on the display.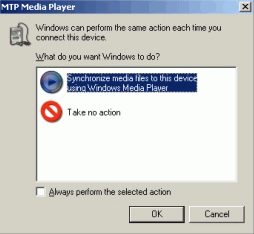 If you cannot see the pop up after connection please refer to the FAQ "My GoGear is not recognized by PC" else the database of your GoGear may be corrupted, please follow the steps below to repair your device.

If you have not already installed the Device Manager, follow the on screen instructions to install the Device Manager from the installation CD or download the latest version of the Device Manager application from http://www.philips.com/support.
Connect your GoGear to the PC.
Make sure all other applications such as Philips Plug-in, Windows Media Player or Windows Explorer that access the device are closed or else Device Manager will not recognize the device. Launch the Device Manager at Start->Programs->Philips GoGear->Philips GoGear on your PC. Select the REPAIR tab on the dialogue box and then click Repair to start repairing.
IMPORTANT: All music & content of your device will be erased once the GoGear is repaired.

Once the repair is complete a dialogue box will pop up; click OK and unplug the GoGear from the computer.

Follow all on screen instructions to complete the repair.
The Device Manager will close automatically once the success message is displayed. Close all opened application and then unplug your device.
Once the GoGear is disconnected from the computer, the display will show "Firmware Upgrading" for a couple of seconds and then start up as usual.
Now launch Windows Media Player and connect your GoGear again to the PC and check if now the Windows Media Player is able to synchronize with your GoGear.
If after repair the Windows Media Player still unable to detect your GoGear your existing version of the Windows Media Player may not be installed properly. Try uninstall and reinstall the Windows Media Player.
Uninstall the existing version of your Windows Media Player by going to Start->Settings->Control Panel
Click to start the "Add or Remove programs" and then select Windows Media Player.
Click the Change/Remove button and follow the on screen instructions to uninstall the program.

Re-install the Windows Media Player by running the by-packed CD ROM on your computer
Follow the screen instructions to complete the installation of Windows Media Player
Restart the computer.
Launch Windows Media Player and then connect your GoGear again to the computer.