Question
How do we operate the IPod/GoGear Docking Station
Answer
The supplied docking station has two types of cradles, one for GoGear and another for iPod. Different types of dock
adaptors are provided to support various GoGear/iPod range.
Slide the dock station's cover to select the correct docking cradle. The default accessible cradle is for iPod and for GoGear players, you will need to slide the cover upwards to reveal the dock (See Picture Below).


Select the matching dock adaptor and attach it to the cradle. Find the correct type number at the bottom of the dock adaptor for your GoGear/iPod.
Playing from your iPod/GoGear:

Connect the docking station to the DOCK jack on this unit. The (A) connection is only required for photo and video playback from iPod players. (For GoGear players, the photo and video playback is NOT supported.)

Before you begin, turn on your TV to the correct video-in channel and make sure that the 'TV ON' setting of your iPod is turned on.

Dock your GoGear or iPod in the correct cradle and turn it on.

Press DOCK on the remote control to switch this unit to 'DOCK' mode.

Start playback on your GoGear/iPod. The music will be heard through the speakers.
The following buttons on the remote control can be used to control the GoGear/iPod playback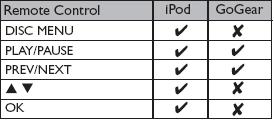 Note: Whenever this unit is powered up and the docking station is connected to it, the battery of the docked GoGear or iPod will be charged automatically.