Question
How can I verify if the Conditional Access Module (CAM) is inserted correctly and recognized by my TV?
Answer
If the CAM (CI module) is not inserted correctly, the COMMON INTERFACE menu will not be displayed on the TV menu.
IMPORTANT: Read the instruction provided by your service provider on how to setup the CAM (CI Module) before connecting to the TV.

Please follow these steps to confirm that the CAM (CI Module) is inserted correctly.

1.Switch off the TV.
2.If your CAM comes with a smart card, first insert the smart card into the CAM.
3.Check that the arrow on the smart card faces the same side of the arrow on the CAM.
4.Follow the direction printed on the CAM, gently insert the CAM into the COMMON INTERFACE slot at the side of the TV.
Caution: Do not use force if the CAM module does not enter smoothly! Make sure that you have inserted the CAM in the correct orientation.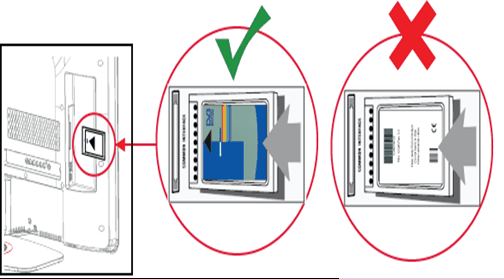 5.Switch on the TV.
6.If you use a CI+ module there will appear 5 steps of authentication. You don't have to react on this prompt, the authentication will complete automatically after some seconds.
7.Press the 'OPTIONS' button on the remote control to display the options menu.
8.If the CAM is recognized, the COMMON INTERFACE option will be highlighted.
9.Select COMMON INTERFACE and press the cursor right to select the CAM.
10.Press 'OK' button to display the CAM application. The CAM applications vary from service provider.
11.Follow the instructions provided by your service provider to setup your CAM.