Question
How do you connect to a Progressive Scan TV or using Component Video Input?
Answer
The progressive scan video quality is only available when using Y Pb Pr connection and a progressive scan TV is required. It provides superior picture quality when watching DVD movies.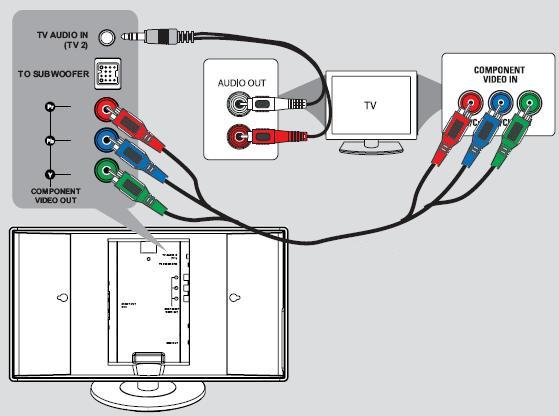 Use the component video cables (red/ blue/green - not supplied) to connect the COMPONENT VIDEO OUT (Y Pb Pr) sockets on the main unit to the corresponding component video input sockets (or labelled as Y Pb/Cb Pr/Cr or YUV) on the TV.

If your TV accepts progressive signals, proceed to chapter 'Getting Started - Setting up Progressive Scan feature' in the user manual for detailed progressive feature setup.

(For Europe Only)
To hear the TV channels through this unit, use the supplied audio cable to connect the TV AUDIO IN (TV2) to the AUDIO OUT sockets on the TV.

Helpful Hints:
– To hear the TV programmes through this Home Theatre System, press TV button on the remote control to select 'TV2' as the sound source you want to listen to.