Basic Information:
MP3 is a popular digital music compression format that allows consumers to store many songs in a very small device called an MP3 player (or digital audio player). This compressed music can be purchased over the Internet or created from a consumer's personal CD collection using widely available computer software. In general, consumers must use computer software to convert CDs into MP3 format and then move the converted files to MP3 players for listening.
Consumers can also purchase music over the Internet. This requires a computer, an Internet connection, and an account with an Internet music provider. Once the desired music is purchased, it will be transmitted over the Internet connection and stored on the computer's hard drive. Every song you purchase comes with a unique ID/key. Without this ID, the song cannot be played.
This ID/key is transmitted to your computer over the Internet when you first play the song on the computer. This ID/key is automatically stored on your hard drive.
The MP3 file can also store the song title, artist, type of music, and other information. This information can be displayed on the screen of the MP3 player. MP3 players on the market have memory capacities ranging from 128 megabyte to 80 gigabytes. In computer science, a byte is a unit of measurement of information storage, most often consisting of eight bits.

1 megabyte = 1024 kilobytes, where 1 kilobyte = 1024 bytes, and 1 gigabyte = 1024 megabytes.
Typically, a four-minute song takes up 4 megabytes of memory space on an MP3 player, based on a common compression ratio of 128 kbps (kilobits per second). 1 byte = 8 bits.

MP3 Primer
About MP3 and music formats:

What is MP3?
MPEG-1* Audio Layer 3, more commonly referred to as MP3, is a popular digital audio encoding format. It uses a compression method that is designed to greatly reduce the amount of data required to represent the audio recording, yet still sound like a faithful reproduction of the original uncompressed audio to most listeners.
Music is ripped from a CD to WAV files, and then a process converts these files into MP3 files, which are 1/10 the size of WAV files.

*MPEG-1 defines a group of audio and video (AV) coding and compression standards agreed to by MPEG (Moving Picture Experts Group).
**WAV is a standard file format for digital audio

MP3 vs. WMA vs. WAV

When music tracks are ripped* from CD they are converted to WAV file first; usually for a 3 minute song it is about 30 Mega-byte. The MP3 codec (coding/compression – decoding/decompression engine) converts the WAV file into MP3 format, and it offers near CD quality sound at one-tenth of the file size. It is not common for listeners to be able to distinguish the difference in sound quality. MP3 or WAV files can be converted into WMA (Windows Media Audio) files, which are almost half the size of MP3 files but have lower audio quality.

*Ripping (also referred to as digital audio extraction) is the process of copying the audio data from one media form, such as CD, to a computer hard disk drive. To conserve storage space, the copied data is usually encoded in a compressed format, such as MP3 or WMA for audio.

What is the different between ripping music from your own CD vs. music purchased from the Internet?
There are several obvious advantages in ripping your own CDs.
If your computer's hard drive failed, you can rip it again, since you have the original CD.
When you rip your CDs to MP3, the MP3 files are not "locked" with a copy-protection key.
You can transfer the music you rip from your own CD to any MP3 player as many times as you like.
Compatible with all MP3 players on the market
Music purchased from the Internet.
These are usually WMA files that have copy protection/digital rights management (DRM) in the file.
If your computer hard drive is damaged, you may have to purchase the music again.
There is usually a limit to how many MP3 players you can transfer to.
You can put the song you just purchased/downloaded on a CD, in addition to storing it on your computer hard drive.
DRM limits the number of times you can put the song on a CD.
Not all MP3 players can play back songs that have DRM content.
Songs (WMA files) purchased over the Internet usually have near CD quality.
What is an ID3 tag?
ID3 tags store information about MP3/WMA files. Common information used in ID3 tags include artist, album, genre, year, track number, and track title.

ID3v2 tags have additional fields to accommodate website information, lyrics, equalizer presets, pictures/album artwork, and other data. For both ID3 tag versions, all fields are stored within the music files.

These ID3 tags can be edited. ID3 tag information is not normally stored on CD content, so you might have to get this information from the Internet. This can be done using the Find Album Info function in Windows Media Player 10 (WMP 10) or manually by typing in this information from the album cover of the CD. Right-click to show the selection within WMP 10.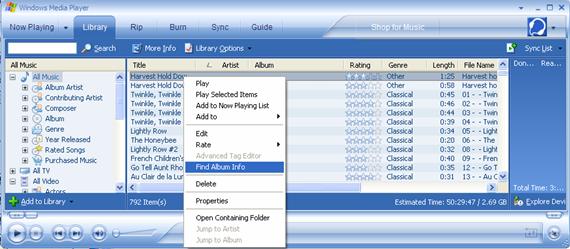 Where can I get music for my MP3 player?
Rip it from the CDs you own.
Buy music online. (Apple has its own format called AAC. Only the Apple iPod supports their format, which is sold online.)
Using your MP3 player
How do I get the music to my MP3 player?
You need to have music in MP3 format already stored on your computer before you can transfer it to your MP3 player.
If you do not have MP3 music already stored on your computer, then you must rip music from your CD.
Some MP3 players require the use of music management software, such as Windows Media Player (WMP), to transfer the music file to your MP3 player, and some MP3 players allow you to use the basic Windows drag and drop operation to transfer music to the player.
How do I rip music from my CD?

You must have a program on your computer that can rip music from your CD, for example, Windows Media Player (WMP). It is likely that your computer has Windows Media Player 10 already installed, since it is part of the Windows operating system bundle. If not, you can go to the Microsoft Windows website to get a free download, then follow the on-screen instructions to install it on your computer.
www.microsoft.com/windows/windowsmedia/player/10/default.aspx
Launch Windows Media Player 10 from your computer by clicking the Windows Media Player icon.

Put a CD into your CD drive.
Click the Rip tab Windows Media Player 10.

Check/clear the checkboxes of the songs you want or do not want to rip.
Click Rip Music
Once the music has ripped and is stored on your computer, you can find it in your library.
When needed, you can also find the ripped music in the location shown at the bottom of your Windows Media Player window.
How do I transfer the music that I just ripped to my MP3 player?
Go to the Library tab to find your MP3 music.

Click All Music if you do not see the title you just ripped on the Library screen.
Select Sync List in the drop-down menu, and drag the music title you desire from the center pane to the sync list on the right.

Transferring music files to an MP3 player
Connect your MP3 player to your computer using the USB cable
Pick your selection below, and click Finish

Click the Sync tab

Click Start Sync. Music will now transfer to the MP3 player.

How to delete music transferred to my MP3 player?
Click the title to highlight the song, and then click the red "X" to delete the title. Highlight the album, and then click the red "X" to delete the album; highlight the artist, and then click the red "X" to delete the artist.

How can I transfer a playlist from Windows Media Player to my MP3 player?
The playlist can only be transferred using Automatic Sync mode. In the Sync tab, click Set Up Sync

Choose "Synchronize this device with this library permanently," and then click Next

Select Automatic
Check the "Customize the playlists that will be synchronized" box

Make sure to check the box on "Synchronize device automatically"

Check the desired playlist boxes on the left or
Create a new playlist by clicking the New button.

Create a name for your new playlist
Right-click to add the desired content to the playlist

Click OK when done


Check the desired playlist box/boxes you created on the left to sync with your MP3 player. WMP will synchronize with your MP3 player immediately after you click OK.

Since the Automatic option is chosen for the synchronize operation, every song in the playlist folder you have chosen will be transferred to the MP3 player. Each time the unit is connected to the computer, it will look for changes, and this operation will keep the device and the playlist on computer synchronized. So, if you decide not to have the song synchronized to your player, you must delete the song from the playlist in Windows Media Player.