Question
A prompt alert from my firewall or User Account Control stopped the installation wizard. What can I do?
Answer
There are two prompt alerts that can interrupt the Easy installation process.
User account control:
The consent prompt is presented when an administrator attempts to perform a task that requires the user's full administrative access token. Please press, "continue" to start the installation.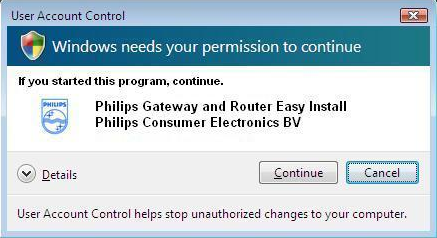 Windows Security Alert:
To protect against threats from the Internet, some computers have a firewall installed. Some firewalls will display a warning when installing a router or a modem router, simply because the firewall considers the activation of the Internet connection, as a hazard. It is important that you allow the erase of Installation Wizard to fully complete the installation process, without interference from the firewall. Your router or modem router might not work property if you do not complete the full installation cycle. Please press, "Unblock" to continue the installation.