Question
How can I connect several external devices to my TV?
Answer
Your TV is equipped with several types of connections. The type of connection you should use to connect a certain device depends on which features of the particular device you want to use.
Note: for the connection of a PC refer to the FAQ on this subject.
After connecting several devices you select any one of them with the 'SOURCE'

button on the remote control of your TV. When you press this button repeatedly you select the external connections alternatively. If the source is HDMI or Scart, the TV will automatically switch to the source input.
Connect an audio device (home cinema set, amplifier) to the 'AUDIO OUT L R' or 'SPDIF OUT' connection at the back of the TV to hear the sound of the TV through your audio system.

Connect headphones to the side connector. Adjust the headphone volume using the headphone volume in the TV menu and press the button on the remote control to mute the TV loudspeaker.

Connect a USB memory device to the side USB connector. Your TV supports playback of multimedia files in JPEG (Photo) and MP3 (Music) format exclusively. Video file is not supported.
Portable hard discs are only supported as a mass storage device without any multimedia capabilities. If your portable hard disc comes with multimedia capabilities, you have to connect your hard disc as a standard peripheral device.
If the above solution does not help, you may refer to the Philips Connectivity Guide on the Contact & support page, which will assist you in making all the necessary connections.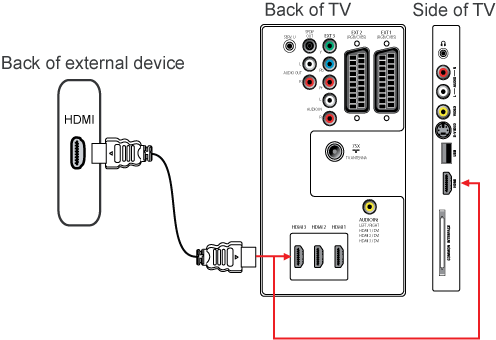 YPbPr- (or component-, or YUV-) connection