How to secure your wireless network when replacing your old router for a Philips CGA5722

In a secure wireless network, only trusted devices (such as a laptop or PC) are allowed to access the network. The
router only trusts devices, which share the same encryption method and encryption key. When replacing your old
router with a Philips CGA5722 you will need to secure your network again. In this manual we will guide
you through this process.

Method 1: Setting up network security the easy way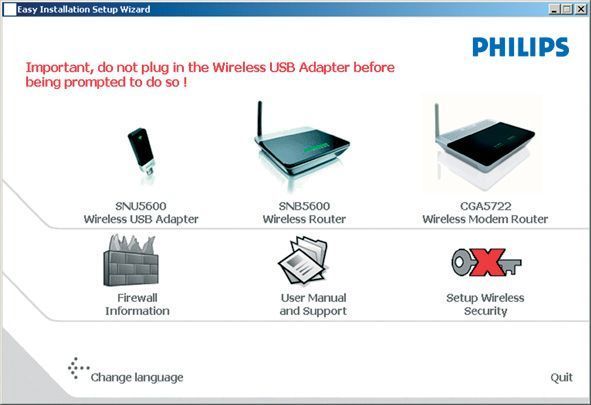 After installing your Philips (modem) router, this screen will be displayed. Click on: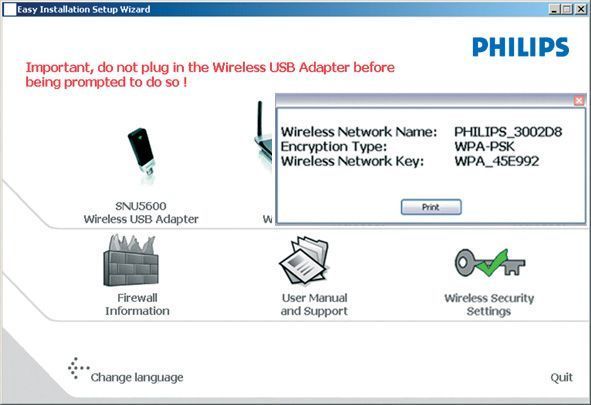 Your Philips (modem) router now has generated a new, unique
wireless network, with a new unique Wireless Network
Name, with a very secure Encryption Type and a new unique
Wireless Network Key.Your other devices (computers) need
to have this information in their settings to access the new
network, therefore, note down this information or print this
information.
Click on:

@22395@
Now associate your device (PC or Laptop) with these new secure network settings.
1) View Available Wireless Networks
2) Choose the new Network Name (Philips_unique number)
3) Click Connect
4) Fill in the Encryption Type (refer to print)
5) Fill in Network Key (refer to print)
6) Click OK
Repeat this for all the devices in your network.
Method 2: Setting up network security the easy way

If you still have your old wireless settings then you can manually set the security settings of the router. You will have to enter the advanced settings however this is not advised or the less experienced user.

Very important!
- Print or open the manual on the installation CD before you start
- Refer to section 4.4.2 Wireless Security for more a detailed description.
1) Open a your web browser
2) Next enter http://192.168.2.1 in the address field

3) Click go, or press enter on the keyboard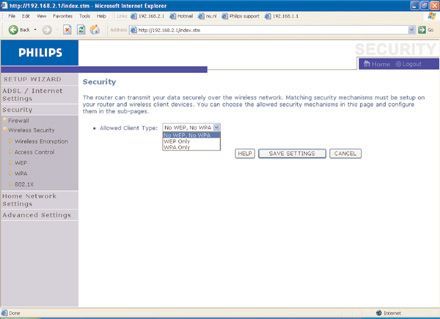 4) On the left bar, Navigate to
Security settings
Wireless Security
5) Set the right encryption Type (WEP or WPA)
6) Click on:


7) On the left bar, Navigate to WEP or WPA and fill in the parameters in the corresponding web page of WEP or WPA
8) Click on: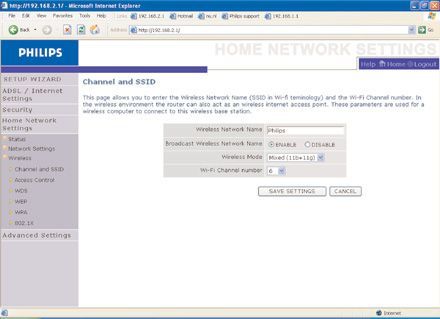 9) Navigate to Channel and SSID
10) Type your Wireless Network Name
11) Check the other settings
12) Click on:


13) The settings are now saved and ready for use