Question
There are "AUTO MODE" button on the remote,what's the function of it?
Answer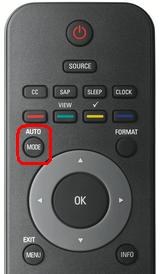 Press" AUTO MODE" button on the remote control can set your TV to a predefined picture and sound setting.
There are several mode as following:
Personal
The customized settings you defined by using the Picture menu.
Sports
Vivid picture settings and clear sound for high action.
Standard
For normal TV viewing.
Movie
Brilliant picture settings for a cinematic experience.
Game
Optimized for PCs, games consoles and play stations.
Power saver
Eco friendly settings for lower power consumption.