Question
Why do I not see the internal memory when I connect to my PC?
Answer
A PhotoFrame connected to a PC will operate as a Card Reader. You can access the Memory Cards inserted in the PhotoFrame.
Philips PhotoFrames 6FF3FPW, 7FF3FPx and 8FF3FPx have limited internal memory. They can save up to four photos.

To copy pictures to the PhotoFrame:
1) Insert a memory card and browse to a photo you would like to copy to the PhotoFrame
2) Go to the Photo Menu by pressing the Menu button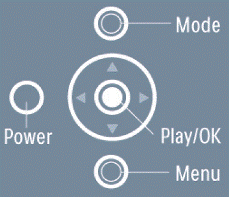 3) Select Copy to and press OK
4) Select PhotoFrame and press OK
The picture will be copied to the PhotoFrame