Question
How do I connect non-iPod MP3 players?
Answer
You can connect a 3.5 mm stereo audio cable (not supplied) from the MP3 LINK socket on this unit to the phone socket on your portable media player (such as an MP3 player).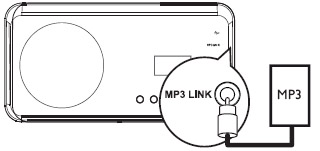 To listen to the audio output from this connection, press AUX/DI /MP3 LINK repeatedly until "MP3 LINK" is displayed on the display panel.