Question
Why can't I transfer some video files into my player?
Answer
If you have not installed the related Codec package in your PC yet, you will see the message THE FILE IS NOT SUPPORTED. The picture attached below, fromthe media converter software, shows the message when you try to transfer those video files into your player via the media converter software.
To solve the problem, you can use the Internet to download the related Codec package and then install it onto your PC.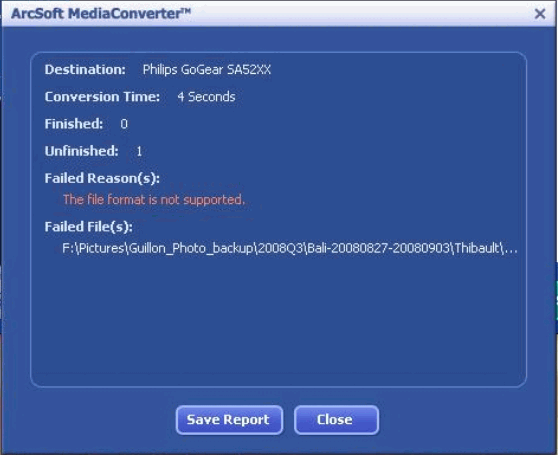 How can I find the correct Codec package on the Internet?
Open a standard search engine such as Google. (http://www.google.com)
Enter a key word or words and then click the Google Search button. This will display websites that offer a download of the Codec package required.

For example, if you want to find an FLV Codec package, just enter download FLV codec into the search engine and then click the Google Search button.

Open one of the web sites to download the Codec Package onto your PC.
Run the package to install the Codec on your PC.
You can now transfer your video file into your player via the supplied media converter software.