Question
My Presenter suddenly does not work anymore. What can I do?
Answer
You can re-connect the Presenter with its dongle, or connect it to another dongle.
• Switch on the Presenter by removing the dongle from the Presenter.
• Check that the Presenter is switched on and that its batteries are OK by pressing the laser pointer button
• If needed, unplug the dongle from the computer
• Put the Presenter in Presenter mode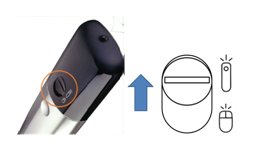 • Next, simultaneously press and hold the 'blank screen' key and the 'previous slide' buttons of the Presenter until the red indicator light turns on continuously (after 5-10 seconds).

• Release both keys of the Presenter. The red light indicator turns off.
• Put the Presenter next to the computer, and insert the dongle in a USB port.
• The Presenter will now automatically connect with the dongle. This may take up to 20 seconds. To confirm successful connection, the red light indicator on the Presenter will come on when you press a button (not the laser pointer button).