VUDU is a movie on-demand service that allows users to instantly stream over 20,000 films using a high-speed internet connection. Movies are available in three different formats: SD (480p), HD (720p), and HDX (1080p/24). VUDU uses a pay-per-view model with no monthly fees. Movies are available for rent and/or purchase, depending upon the licensing agreement with the studio of the content; movies are added to the service on a weekly basis. All you need to get started is a VUDU-enabled Philips TV, BDP or HTS and a high-speed internet connection.
VUDU is a pay-as-you-go service (i.e. VUDU does not charge subscription fees). As you rent or purchase movies, the per-movie viewing prices will be charged to the credit card on your VUDU account. You may view your Account Balance and Transaction History at any time by logging into http://my.vudu.com.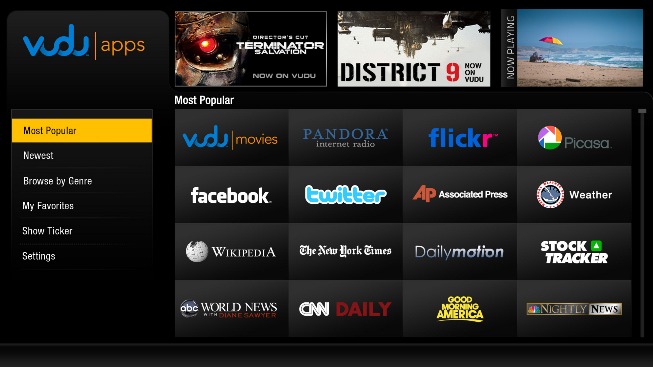 Note: This picture is a sample and does not represent the apps currently available.
One-time movie rentals range from $.99 to $12.99 while purchased movies range from $4.99 to $24.99, depending upon how new the title is and the format you would like to watch it in. The rental and purchase prices are competitive with video stores and video-on-demand services. You may also see rentals priced at $10.99 for movies still in-theater.
In addition to the movie-on-demand service VUDU also has VUDU Apps which provide customers with access to a wide range of Internet services and applications including streaming video, music on demand, photo browsing, social networking and more. VUDU Apps uses a unique, cloud-based architecture optimized for consumer electronics devices, including delivering the latest applications to consumers without the need for software downloads or frequent firmware updates. To learn more about VUDU Apps and the plethora of Apps available currently please visit: http://www.vudu.com/
Currently the following Philips Products have VUDU:
HDTVs:

22PFL4907/F7 (via Ethernet or Wireless LAN Connection)
26PFL4907/F7 (via Ethernet or Wireless LAN Connection)
32PFL4907/F7( via Ethernet or Wireless LAN Connection)
40PFL4706/F7 (via Ethernet or Wireless LAN Connection)
40PFL4907/F7 (via Ethernet or Wireless LAN Connection)
40PFL5705DV/F7 (via Ethernet or Wireless LAN Connection)
40PFL5706/F7 (via Ethernet or Wireless LAN Connection)
40PFL7705DV/F7 (via Ethernet or Wireless LAN Connection)
42PFL5907/F7 (via Ethernet or Wireless LAN Connection)
46PFL4706/F7 (via Ethernet or Wireless LAN Connection)
46PFL5705DV/F7 (via Ethernet or Wireless LAN Connection)
46PFL5706/F7 (via Ethernet or Wireless LAN Connection)
46PFL5907/F7 (via Ethernet or Wireless LAN Connection)
46PFL7705DV/F7 (via Ethernet or Wireless LAN Connection)
50PFL3807/F7 (via Ethernet or Wireless LAN Connection)
50PFL5907/F7 (via Ethernet or Wireless LAN Connection)
55PFL5907/F7 (via Ethernet or Wireless LAN Connection)
55PFL3907/F7 (via Ethernet or Wireless LAN Connection)
55PFL4706/F7 (via Ethernet or Wireless LAN Connection)
55PFL5705DV/F7 (via Ethernet or Wireless LAN Connection)
55PFL5706/F7 (via Ethernet or Wireless LAN Connection)
55PFL7705DV/F7 (via Ethernet or Wireless LAN Connection)

Blu-ray Players:
BDP2900/F7 (via Ethernet Connection or Optional Wireless LAN Connection) Movies Only
BDP2985/F7 (via Ethernet or Wireless LAN Connection) Movies Only
BDP3006/F7 (via Ethernet Connection)
BDP3306/F7 (via Ethernet or Wireless LAN Connection)
BDP3406/F7 (via Ethernet or Wireless LAN Connection) Movies Only
BDP5406/F7 (via Ethernet or Wireless LAN Connection) Movies Only
BDP5506/F7 (via Ethernet or Wireless LAN Connection)
BDP7520/F7 (via Ethernet or Wireless LAN Connection)

Home Theater Systems:

HTS3006/F7 (via Ethernet Connection)
HTS3106/F7 (via Ethernet or Wireless LAN Connection)
HTS3106/F7 C (via Ethernet or Wireless LAN Connection)
HTS3306/F7 C (via Ethernet or Wireless LAN Connection)
HTS3306/F7 (via Ethernet or Wireless LAN Connection)
HTS3541F7 (via Ethernet or Wireless LAN Connection) Movies Only
HTS3564/F7 (via Ethernet or Wireless LAN Connection) Movies Only HTS3506/F7 (via Ethernet Connection)
HTS5506/F7 (via Ethernet or Wireless LAN Connection)
HTS3051BV/F7 (via Ethernet Connection)