Question
How can I upgrade the software in my Home Theater System?
Answer
We continuously improve our Home Theater System (HTS) to support you in the best possible way.
Should you encounter any difficulty with your HTS, we recommend to install the latest software version first.
Before you download the HTS software, make sure that the model number displayed on the top left side of this page matches with the model number of your HTS.
To read the installation instructions and download the HTS software, click the "Software and drivers" menu on the left banner.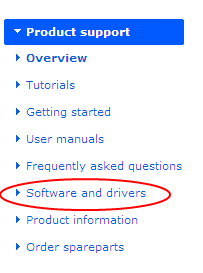 Now you can open the "Installation instructions", the "Release Notes" (software history) or download the latest software for your HTS.