Question
What are audiobooks?
Answer
Audiobooks are audio files that are provided by Audible.com.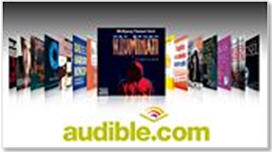 Audible.com provides a wide selection of digital audiobooks, magazines, radio shows, stand-up comedy etc. for download. You can enjoy books in the car, at the gym, or around the house.
Authors and icons read their own works, and famous actors narrate your favorite titles. At Audible.com you can browse and sample over 75,000 selections, including the latest best sellers and timeless classics.