Question
Some long hairs are stuck in the shaving heads. How can I get them out?
Answer
Take the shaving heads apart by pushing the sides of the central spring towards each other.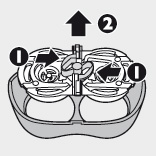 Then lift the retaining frame out of the shaving unit.
Slide the shaving heads out of the retaining frame.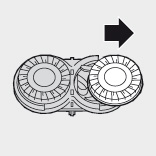 Do not mix up the cutters and the guards. This is essential since each cutter has been ground with its corresponding guard for optimal performance. If you accidentally mix up the sets, it could take several weeks before optimal shaving performance is restored.
Clean each cutter and guard separately with the short-bristled side of the brush to remove the hairs.

Slide the shaving heads back into the retaining frame and put the retaining frame back into the shaving unit.