Question
The steam boost function or vertical steam boost function does not work.
Answer
1. The (vertical) steam boost function has been used too often within a very short period.
Put the iron in horizontal position and wait for a while before using the (vertical) steam boost function again.

2. The iron is not hot enough.
Set the temperature dial to a temperature suitable for steam ironing (between "3 dots" to MAX temperature setting).
Note: Dial graphics are for illustration purpose only and may differ from the dial of specific models.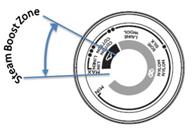 3. Put the iron on its heel and wait until the temperature light has gone out before you start ironing.