Question
The iron does not produce any steam.
Answer
Scenario 1:
The steam control may have been set to the zero steam position. Put the steam control into position.
Scenario 2:
There is no water in the tank and/or the settings are not correct.
Solution:
Step 1 : Ensure there is water in the tank.
Step 2 : Set to the appropriate steam and temperature settings as shown in table .
Green area – Steaming possible
Red area- No steaming possible, may lead to water leakage.
Note:Dial graphic is for illustration proposes only.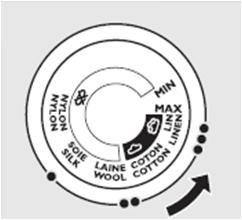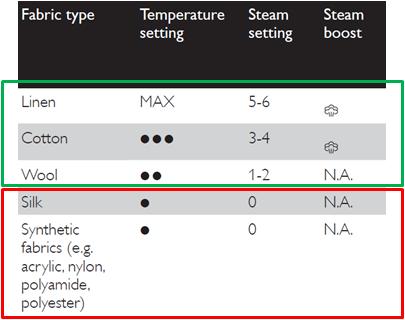 Scenario 3:
The Steam vents of the soleplate maybe blocked by impurities (e.g. calc)
Solution:
Perform calc-cleaning or decalcification on your iron.
Kindly refer to your user manual or this website for cleaning maintenance advice.