Question
How to replace s-bag®
Answer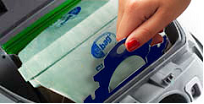 When removing s-bag® from cleaner, just pull the blue cardboard tab to hygienically seal the bag.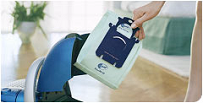 The s-bag® is now closed to prevent dust from spilling out and you are less likely to inhale clouds of dust when disposing of the bag.
To insert a new s-bag® in your cleaner, just push the cardboard into the fittings in the dustbag compartment.