Question
What should I do if my nose trimmer does not work anymore?
Answer
If you press the on/off button, and your nose trimmer does not start:
Remove the cutting unit by turning it: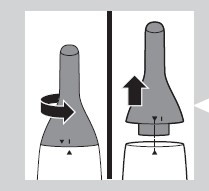 Switch the appliance on and off
Place the cutting element back
If the appliance still does not work, try the following:
The trimming element could be blocked by dirt. Soak the cutting element of the nose trimmer in a bowl of warm water and a little soap for about 2 minutes.
The battery could be empty, replace the battery with a new one.
The battery could have been inserted incorrectly, make sure the '+' pole faces down.
If your nose trimmer still does not work, please take it to your local Philips dealer or Consumer Care Center.
<iframe height="315" src="//www.youtube.com/embed/fTKesgnXcuQ?rel=0" frameborder="0" width="560" allowfullscreen=""></iframe>