Question
My juicer is not working anymore – what should I do?
Answer
Please check the following points:

Is the device properly plugged in?
Is the lid assembled correctly?
Is the locking arm closed properly?
Did the lid detection pin on the juicer lid break off (see picture)?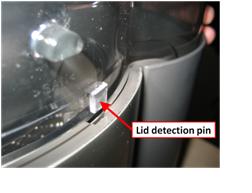 If the appliance is still not working, please contact the consumer care hotline in your country.