Question
Why is the coffee that comes out of the machine not hot?
Answer
If the coffee is not hot, please try the following:
Check that the water heater is working properly. Draw off some water from the steam tube (image 1). If the water comes out hot, the water heater is OK. If the water is cold, take the machine to a service center to have it examined.

Check the temperature of the cups. Cold cups will very quickly lower the temperature of the coffee.Try warming cups with some hot water and/or steam or by keeping them on the cup warming plate (if present).

If the first coffee is cold when the machine works with pre-ground coffee, you have to heat up the water circuit and brewing unit first by dispensing pre-ground coffee without putting in any coffee, i.e. by dispensing only hot water.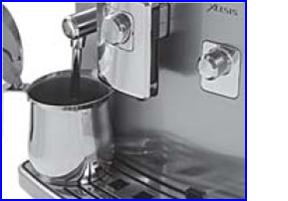 image 1
If the above does not resolve your issue, please contact our Consumer Care Center. See contact details on the product information page.