Question
Why does the machine take so long to heat up and/or why is the amount of water coming out of the tube very small?
Answer
Please check the following:
The circuit may be empty. Fill the circuit by selecting the hot water function, opening the steam spout and dispensing a glass of hot water.

Check that the valve on the water tank is not clogged. If it is, rinse the valve and filter carefully (Image 1).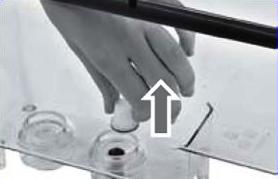 Image 1
If the above does not resolve your issue, please contact our Consumer Care Center. See contact details on the product information page.