Question
How can I clean the different parts of the Philips Café Gourmet coffeemaker?
Answer
Before you start cleaning the coffeemaker, make sure that you switch off and unplug it from the household power.


Clean the outside of the appliance with a moist cloth.

Clean the jug, its lid, the filter holder and the water tank cover in
hot water with some dishwashing liquid or in the dishwasher.



Clean the rubber insert in the outflow opening of the water tank every month and
after every descaling procedure.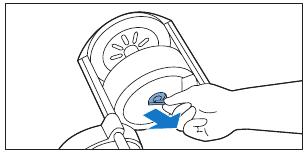 Do not forget to put the insert back into place before you use the appliance again.

Note: Never use scouring pads, abrasive cleaning agents or aggressive liquids such as petrol or acetone to clean the appliance.