Question
Water drips from the holes of the soleplate during startup and/or during ironing.
Answer

There are 3 possible reasons for the water dripping:

1. Steam is used with a temperature that is too low (in the non-steaming zone)
Refer to the temperature dial (the steaming zone is the darkened area)

Note: Dial graphics are for illustrative purposes only and may differ from the dial of specific models.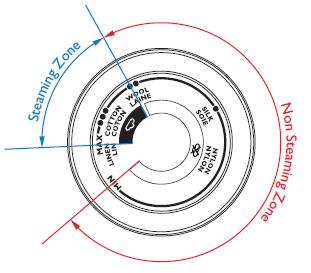 Turn the temperature dial to the steaming zone and let the iron heat up in heel-rest position for one minute before you resume ironing.

2. Your iron produces a lot of steam. Steam could have condensed on the board cover, making it wet and causing water marks on your garment when the iron is pressed on it. Replace the ironing board cover if the foam material has worn out. You can also add an extra layer of felt material under the ironing board cover to prevent condensation on the ironing board. For the best solution, we recommend that you use the Philips Easy 8 ironing board with PerfectFlow cover (GC260), which is specially designed to prevent dripping on the board and floor.

3. It may also be related to the type of water you use. All Philips irons can be used with water from the faucet, but you can also use demineralized (distilled) water. Do not use perfumed water, water from a tumble dryer, rainwater, vinegar, mineral water, magnetically treated water (Aqua+), water from a drinking water filter, starch, descaling agents, ironing aids, salt, or chemicals in the water tank. These types of water have been tested. They are not suitable and may even cause damage to the appliance. If you have been using any of the above, please perform a deep rinse cycle. The instructions for the deep rinse cycle are as follows:

1) Tilt the steam generator and pour 500 ml water from the faucet (or even better, distilled water) into the opening. Reinsert the rinsing knob and turn the knob clockwise to fasten it.

2) Set the temperature dial to "Min."

3) Ensure that the water tank is reinserted (if the tank is detachable) and the water level is above the "Min" mark.

4) Press the on/off button and wait for 5 minutes.

5) Put a piece of thick cloth on your ironing board. Place your iron on the cloth, and press and hold the steam trigger. While pressing the steam trigger, slowly move the iron back and forth across the cloth. Dirty water comes out of the soleplate. Continue until clean water comes out of the soleplate.

6) Switch off the steam generator and let it cool down for 2 hours.

7) Remove the rinsing knob and let the water flow into a cup. Reinsert the rinsing knob and turn the knob clockwise to fasten it.