Question
The water at home goes through a softener. Will this have any effect inside the machine?
Answer
There are different types of water softener. If the system is based on a filter, magnetic or salt system, it will not damage your steam generator.

Do not use perfumed water, water from a tumble dryer, rainwater, vinegar, mineral water, magnetically treated water (Aqua+), water from a drinking water filter (e.g. Brita), starch, descaling agents, ironing aids, salt or chemicals in the water tank. These types of water have been tested. They are not suitable and may even cause damage to the appliance.

If you have been using any of the above, please perform a deep rinse cycle.
1. Let the appliance cool down completely — this will take about 2 hours.

2. Tilt the steam generator and pour 500 ml water from the faucet (it is best to use distilled water) into the opening. Reinsert the rinsing knob and turn the knob clockwise to fasten it.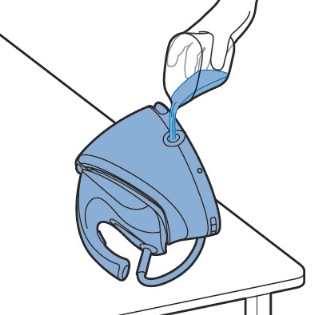 3. Set the temperature dial to "Min."

4. Ensure that the water tank is reinserted (if the tank is detachable) and the water level is above the "Min" mark.

5. Press the on/off button and wait for 5 minutes.

6. Put a piece of thick cloth on your ironing board. Place your iron on the cloth, and press and hold the steam trigger. While pressing the steam trigger, slowly move the iron back and forth across the cloth. Hot, dirty water comes out of the soleplate. Continue until clean water comes out of the soleplate.

7. Switch off the steam generator and let it cool down for 2 hours.

8. Remove the rinsing knob and let the water flow into a cup. Reinsert the rinsing knob and turn the knob clockwise to fasten it.