Question
How can I improve the cleaning performance of the MultiSteam?
Answer
Possible ways to increase cleaning performance:
Use clean microfiber pads
Make sure the microfiber pads are clean. To keep the steam pads in optimal condition, clean the pads after every use.
You can clean the pads by rinsing the steam pads under a tap or place the steam pads in a washing machine.
Replace microfiber pads
Replace the pad every three months to ensure best cleaning results.
You can order a replacement kit under type number FC8055.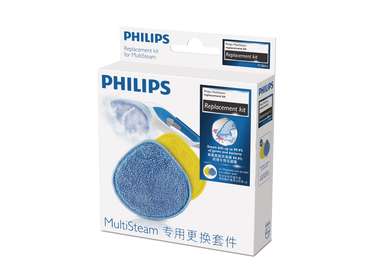 The replacement kit contains:
1 yellow microfiber pad
1 blue microfiber pad
Ordering accessories
To buy accessories or spare parts, visit the Online shop or go to your Philips dealer.
If you have any difficulties obtaining accessories for your MultiSteam, please contact the Philips Consumer Care Centre in your country: Contact Page