Question
How do I de-scale the appliance?
Answer
IMPORTANT: Use the Calc clean function every month to prolong the life of your iron. If the water in your area is very hard, or you see scale coming out of the soleplate during ironing, use this function more frequently.

1. Make sure the iron is unplugged and the steam slider is set to the dry setting.

2. Fill the water tank to the MAX indication.
Do not pour vinegar or other descaling agents into the water tank.

3. Plug in the iron and set the temperature dial to MAX.

4. Unplug the iron when the temperature light goes out.

5. Hold the iron over the sink. Keep pushing the calc clean button and gently shake the iron back and forth until all the water in the water tank has been used.
Scale is flushed out. Steam and boiling water also come out of the soleplate.
Note: Repeat steps 2 to 5 if the water that comes out of the iron still contains scale particles.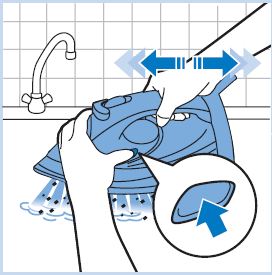 6. Plug in the iron and let the iron heat up to dry the soleplate.

7. Unplug the iron when the temperature indicator light goes out.

8. Move the iron gently over a piece of cloth to remove any water stains from the soleplate.