Question
What is Auto Steam Control?
Answer
Based on the temperature you select, the iron automatically provides the optimal amount of steam for the best result.
It still allows you to turn off the steam completely if desired for very delicate garments or for applying transfer prints.
Refer to the table below for the applicable temperature settings for Auto Steam Control.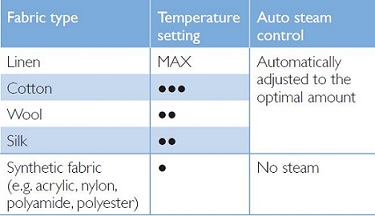 Select the Auto steam setting on the steam slider to enjoy Auto Steam Control.