Question
Which type of dustbag should I use?
Answer
Philips has one standard dustbag that fits all Philips vacuum cleaners: The S-bag.

New dust bags

There are three kind of dust bags that all fit your PerformerPro & PerformerPro Expert:
- Philips s-bag Classic (FC8021)
- Philips s-bag Anti-allergy (FC8022) - high filtration synthetic dust bag
- Philips s-bag Anti-odor (FC8023) - ideal for people with animals like cats and dogs

The FC8021, FC8022 & FC8023 packages contain only dust bags and no filters. For more information you can visit our Online shop or check out www.s-bag.com

Starter kit FC8060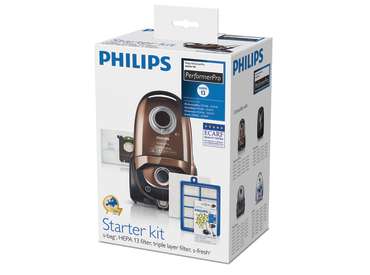 You can also order a starter kit for the PerformerPro & PerformerPro Expert under type number FC8060 with a year's supply of accessories.

The starter kit contains:
4x Ultra Long Performance s-bags
1x HEPA 13 Washable filter
1x Triple Layer microfilter
4x packages of s-fresh scent granules.
If you have any difficulties obtaining dust bags, filters or other accessories for your PerformerPro Expert, please contact the Philips Consumer Care Centre in your country: Contact Page