Question
Can this device perform vertical steaming?
Answer
Yes. It can perform vertical steam. For vertical steaming, we advise you to switch to the TURBO setting by pressing the on/off button. You can follow the steps: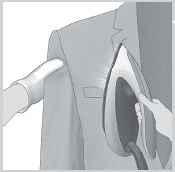 1. Put on the glove (available only on the GC9650)
2. Put the garment that you want to steam on a clothes hanger and hang it, e.g. from a hanging rack. Hold the iron in a vertical position. Pull the garment with the hand on which you are wearing the glove and stretch the garment slightly for more effective wrinkle removal. While pulling the garment, press the steam trigger and move the iron up and down with the soleplate touching the garment slightly.