Question
How do I use the SmartPro on soft floors like carpets and rugs?
Answer
The SmartPro Active performs best on hard floors, such as wooden, tiled or linoleum floors. It may experience problems cleaning soft floors such as carpets or rugs.
If you use the robot on a carpet or rug, please make sure the dry wipe attachment is removed. It is also advisable to watch the robot closely the first time you use it to see if the floor type is suitable.
Removing the dry wipe attachment:
Turn the robot upside down and place it on a hard surface such as a table or floor.
Push one end of the dry wipe attachment towards the wheel on the other side of the robot to release it. Then pull the attachment off the robot.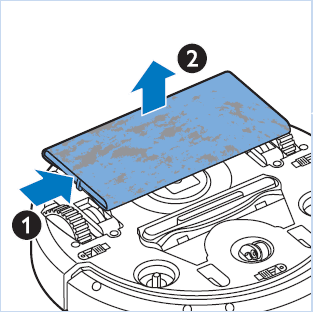 If the solutions provided do not help to solve your problem, please contact the Philips Consumer Care Center in your country. Contact Page