Question
Sometimes there are yellowish or brownish water from the soleplate during ironing, what should I do?
Answer
Brown or yellowish like stains are resultant of impurities or chemical present in the water. If you live in an area with hard water, fast scale build-up may occur. Therefore, it is recommended to use distilled or demineralized water to prolong the lifetime of the appliance.



Regular descaling action (removal of water from steam generator) with help to reduce this effect.


Descale the soleplate by following the procedure below. We advise you to perform the procedure twice for better results.

1. Make sure the appliance is cool and clean the soleplate with a damp cloth.
2. Empty the water tank through the filling door (Fig. 20). Tilt the appliance and remove the EASY DECALC knob.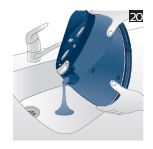 3. Pour 500ml distilled water into the DE-CALC opening and tighten the EASY DE-CALC knob (Fig. 21).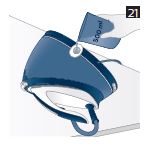 4. Fill up the water tank halfway. Switch on the appliance and wait for 5 minutes.

5. Keep the steam trigger pressed continuously while you iron a few pieces of thick cloth in a backand- forth motion for 3 minutes (Fig. 22).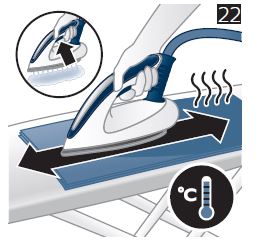 Warning: Hot, dirty water (about 100-150 ml) comes out of the soleplate.

6. Stop cleaning when no more water comes out of the soleplate or when steam starts coming out of the soleplate.

7. Unplug the steam generator and let it cool down for at least two hours. Remove the EASY DECALC knob and let the remaining water flow out. Tighten the EASY DE-CALC knob.