How and where can I buy mopping brushes and other accessories for the AquaTrio Pro?
To buy accessories or spare parts, visit the Online store or go to your Philips dealer.

Ordering new mopping brushes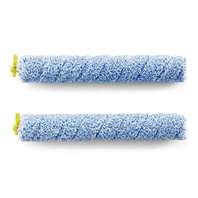 You can order a replacement kit for the AquaTrio Pro under type number FC8054/02.
The replacement kit contains 2 mopping brushes.
Note: Always replace the two old mopping brushes with two new mopping brushes at the same time if you want to retain good cleaning results. Old mopping brushes do not harm the environment. You can throw them away with normal household waste.
If you have any difficulties obtaining accessories for your AquaTrio Pro, please contact the Philips Consumer Care Center in your country: Contact Page